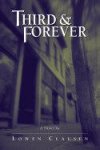 Fiction
$22 Hardcover
6 x 9
359 pages
ISBN: 0972581111
Rights: SILO
A former Seattle police officer turned prize-wining mystery scribe pens his third accomplished thriller, this gripping tale focused on a female Seattle cop on the very personal trail of a rapist in Ballard and beyond.
—Seattle Post Intelligencer
Clausen's intriguing third novel (after First Avenue and Second Watch) is partly a police procedural, partly a story of women finding themselves in situations that make them stronger individuals. Seattle police officer Grace Stevens investigates a series of rapes that may involve football players from the University of Washington, one of whom is dating the daughter of Grace's former partner, Sam Wright. At the same time, Grace's mother has been hospitalized with cancer, and Grace's sister finds an 1858 deed for the sale of land in Louisiana to a free man of color. This discovery leads Grace on a mission to uncover her family's history. Clausen-who served 13 years on the Seattle police force that he so movingly depicts-has created characters with integrity and internal strength who take on life's tribulations and win even though justice is not always served. For all libraries where police procedurals are popular and where readers prefer novels about real women.
—Library Journal